Biography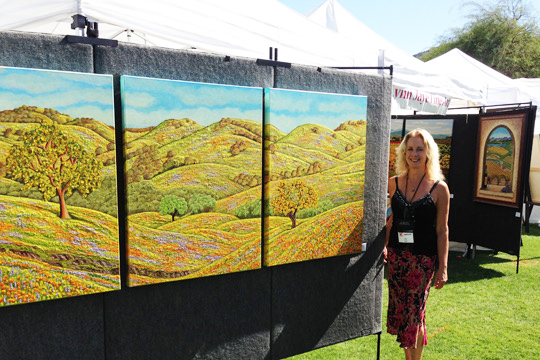 I was born and raised in London, England and studied art at the Byam Shaw School of Painting & Drawing, the Central School of Art & Design and the Camden Arts Centre. After college, I worked for a few years in London and then escaped city life by taking a trip around the world, stopping in various picturesque places to work and paint. Seven years later I arrived in California and went back to studying art and design while working as a sign painter. After working in the interior design industry for five years I finally became a full-time artist in 1990.

Landscape painting in watercolor became my first focus, followed by acrylic on canvas, and Impressionism was my inspiration, especially Pointillism and artists such as Seurat and Signac. Traveling through different styles and motifs, I produced a collection of abstract work inspired by Abstract Expressionism and artists such as Jackson Pollock. Available paintings can be found in the Abstracts Gallery.

I have recently returned to oil on canvas, my original medium, with a new-found knowledge of bio-based, non-toxic products. I produced some large-scale figurative work and these can be found in the Nudes Gallery. After painting some large-scale landscapes in oil, I transitioned into concentrating on flowers and Georgia O'Keefe became one of my inspirations. My vision of peace and harmony can be found in the center of a flower that radiates out into the universe as a beacon of beauty and love. This vision has always powered my work and is now concentrated into a focus on the essence of life. These can be found in the Flowers Gallery.